On Feb. 5, a ground blessing was held for the Ford Island Historical Trail, a 4.1-mile path that circles the 450-acre island in Pearl Harbor.
When complete, the trail will feature 15 nodes and 30 interpretive panels that will memorialize sites of historical or cultural significance in ancient Hawaiian and military history.
Attendees at the Feb. 5 ground blessing included members of the Navy and Air Force, as well as NAVFAC personnel and representatives from Hunt Companies, general contractor Moss & Associates and a variety of subcontractors.
Joint Base Pearl Harbor-Hickam was represented by Col. Douglas Pierce, deputy commander, while Hope Marini, director of the Real Estate Division, and Navy Capt. Brian Weinstein, executive officer, represented Naval Facilities Hawaii (NAVFAC). Hunt Companies was represented by Steve Colón, president of development for the Hawaii region.
The traditional Hawaiian blessing was conducted by Shad Kane, a noted cultural practitioner with longstanding ties to Hunt Companies because of his work with the Kalaeloa Heritage and Legacy Foundation.
Moss & Associates expects to complete the Ford Island Historical Trail in the third quarter of 2018.
Other Hunt Companies attendees included Thomas Lee, senior vice president; Mitch Silver, senior vice president; and Emily Davids, assistant development manager.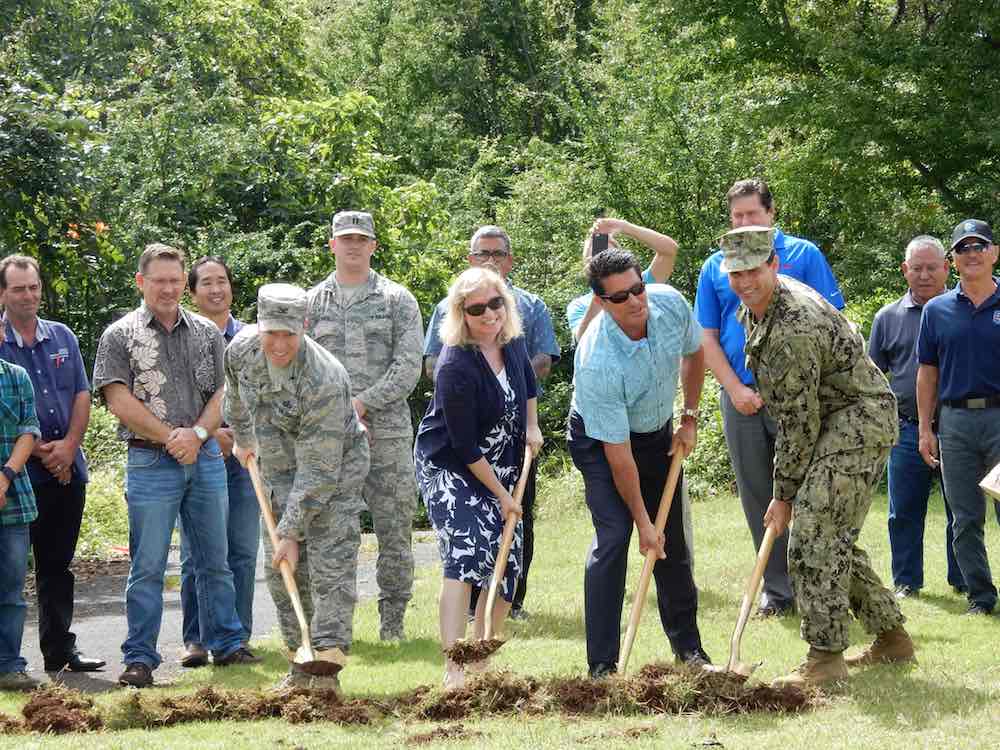 Pictured left to right:

Col. Douglas Pierce
Hope Marini
Steve Colón
Navy Capt. Brian Weinstein