Unique Eastside Crossings apartment complex opens first two buildings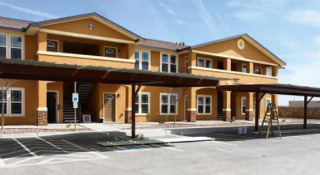 March 6, 2014
By Vic Kolenc / El Paso Times
The first two buildings have opened in the 188-unit Eastside Crossings apartment complex, at Zaragoza and Joe Battle in East El Paso. Portions of the $22 million complex, expected to be completed by summer, will be shown off during an open house today for news media and the public, the El Paso Housing Authority reported.

The complex is unique because it's the first El Paso project with a mix of public housing and market- rate apartments. The Housing Authority partnered with El Paso's Hunt Companies, and Investment Builders Inc., to build the apartments on a 16.6-acre site near a JC Penney store.

The complex will have 64 public housing units, 79 affordable housing units, and 45 market-rate units priced from $650 and up. The leasing office, now at the site, can be contacted at 855-6620.